Sioux Drills are known worldwide for their quality, durability, and performance. But what makes them so good and why should they be your first choice for your production line? Regardless of whether you need air drills for a local cabinet shop or a multi location aerospace operation; in this article we will explain why Sioux Drill Motors are the best value in portable hand held pneumatic drills.
A History of Innovation – Sioux Tools was founded over 100 years ago with the simple goal of becoming "the best tool and machine shop." In their early years, the company focused primarily on producing piston rings, spark plugs, and valve seating tools for the automotive market, but soon branched out into power tools after the conclusion of World World War One. Since entering the air tool business in 1958, Sioux tools has acquired over 100 patents as a result of their advances in air tool engineering and a commitment to continuous improvement. in 1994, Sioux tools was acquired by Snap On Brands, a $2 Billion S&P 500 Traded company based in Kenosha, Wisconsin. The company employs over 14,000 people worldwide.
Sioux Listens – Sioux Tools places serious emphasis on end user input as evidenced by its "Signature Series" program. Signature Series is an innovative pneumatic power tool program created through the implementation of next generation ergonomics, productivity enhanced features, tool serviceability, tight tolerances, and overall value. By conducting plant level market research and using real operator input, Sioux has engineered a program that truly delivers tools for the way that end users work. In short, they design their tools around the needs of the operator.
Performance, Productivity, and Easy Maintenance – Sioux drills offer top of the line features that uniquely qualify them as a production grade air tools. Here are just a few: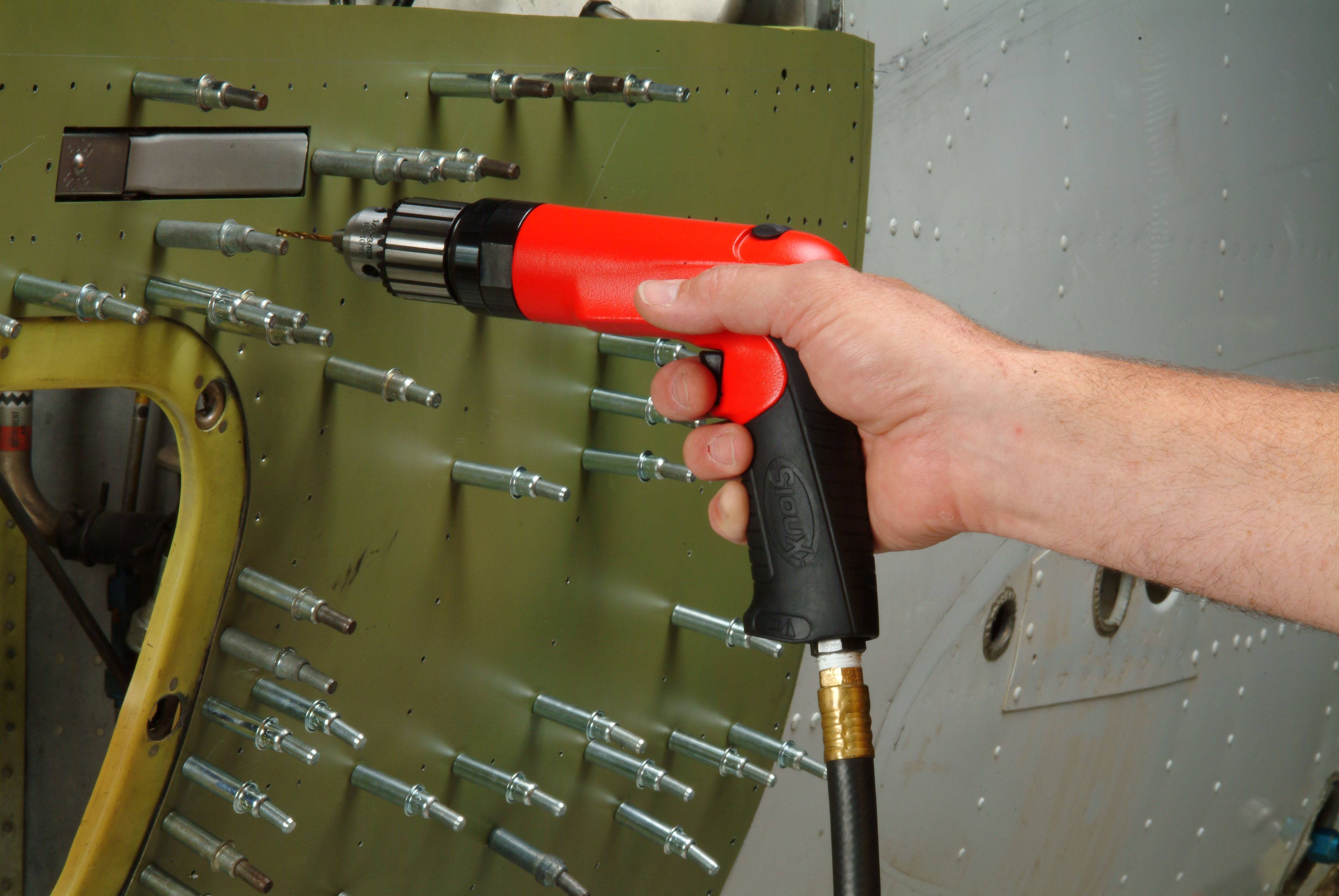 Drop in Air Motors – Sioux offers either a 0.6 or 1.0 horse power five vane air motor that delivers exceptional power and torque throughout the entire hole making process. Cylinders, rotors, and end plates are all machined from premium quality metals and feature smooth spinning, long lasting bearings throughout. Heat treating of the rotor pinion ensures long service life. More importantly, the air motors used in Sioux drills are what are referred to as "drop in". What this means is that the entire motor can be removed and replaced with minimal tool disassembly and without the need for alignment. This allows for the maintenance department to swap out fully assembled air motors in as a little as five minutes! Furthermore, the "Slip fit" style front end plate bearing allows easy servicing of the air motor without disturbing the rotor spacing, another time saving feature. This all amounts to measurable gains in productivity, reduced downtime, and easy tear down and rebuild.
Simple Gear Box – Sioux drills feature a simple 3 piece planetary gear system. Fewer and larger gears means bigger teeth, better power transmission, less stripping, and greater performance under load. The gears are fitted with slip pins and the ring gear is machined into the motor retainer for easy assembly and disassembly. An easily accessed Zerk fitting on the top of the tool's outer housing makes greasing the gear reduction a snap. Lastly, the entire gear train can be accessed and removed without removing the drill chuck.
Interchangeability – Sioux signature series drills share many common parts. Cylinders, rotors, end plates, and bearing are interchangeable among many models of their drills and pneumatic screwdrivers. This means fewer parts to stock in the tool room, fewer SKU's to manage, and a decreased inventory holding cost.
Better Ergonomics – Sioux pneumatic drills are anatomically designed to keep the operator's hands and wrist straight during use. The insulated handle protects workers from cold transfer while the built in finger rest encourages proper grip. On models with reverse, the shuttle reverse switch is easily accessible without stretching. Sioux uses a lightweight aluminum housing covered with a rubber grip to keep total tool weight to a minimum while reducing vibration.
Innovation – Sioux drills offer many features designed with restricted work space access in mind.
Z Handle Drills  – With an overall depth of only 3-1/2 inches,Sioux's unique Z handle drills allows operators to drill true holes in tight spaces. Excellent for use in aerospace and truck body, these high quality drills are not only handy, but durable as well.
T Handle Drills – Sioux Extended Length T-handle drills reduce stress on the operators back and arms while making quick work of any decking application. Activation is controlled by a lever type throttle which further promotes proper ergonomics.
Aerospace Drills – Commonly used in aircraft construction and maintenance, Sioux compact head drills are available with 45 and 90 degree angle heads. The chucks on these drills are typically female and are designed to be used with threaded 1/4-20 drill bits that screw right into the head of the tool.

American Made –  Sioux production drills are produced at the Snap On Murphy plant, a 168,000 square foot manufacturing facility nestled in the Appalachian Mountains. The plant employs approximately 230 employees and subscribes to the principles of lean manufacturing with an almost religious zeal. Visual cues abound and the use of kan ban and Andon systems eliminates stock outs resulting in shorter production lead times. 40 plus machining centers churn out high quality tool components which are subsequently assembled in house. Bench marking, training, linking, and optimization are used to ensure that the facility meets the goal of "rapid continuous improvements" or RCI.
Conclusion and Bottom Line – By combining 100 years of American ingenuity with the proven principles of Japanese lean manufacturing, Sioux develops world class production grade drills right here in the United States. Sioux drills hold a tolerance of up to +/- .005, are competitively priced, and are supported by an extensive work of authorized distributors and repair centers worldwide. Performance, serviceability, ergonomics and value, it all ads up to the best production class drills on the market.